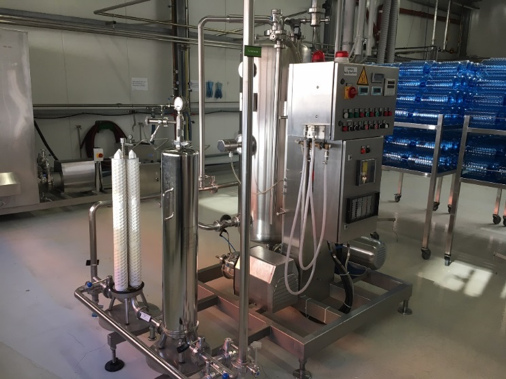 For 9 years, Lebensgut Quelle has successfully worked with liquid filters made by Donaldson. Karl Sickau says (Fig. 2): "Because we have always been satisfied with the performance of the cartridge filters, we were one of the first companies to test the new LifeTec filter as it came off the clean room production line in Haan, Germany. We are very satisfied with its performance."
"The high stability of the filter cage of the 30-inch elements is remarkable. We are now more certain than ever that by inserting the filter elements into the multiple filter housing (Fig. 3) and due to the daily sterilization cycles with hot steam, no damage can occur. The filtration performance and filter integrity are so impressive that we only replace the filters after over 100 sterilization cycles. That saves us time and money."


WHY DONALDSON?
Food and beverage production safety regulations are constantly evolving to address commercial and consumer demands. Organizations subject to regulatory reviews or audits are under even greater scrutiny to understand and comply with the latest certifications and requirements. Donaldson's LifeTec line of process filters use materials suitable for direct and indirect food contact according to the Food and Drug Administration Code of Federal Regulations Title 21, and European Community 1935/2004.
As a recognized leading provider of filtration solutions for sterile air, gas, liquids and steam used in the food and beverage industry, Donaldson is committed to helping its customers protect their operation and reputation with an extensive product portfolio, advanced filtration technology, and unrivaled customer support.
For more information on Donaldson steam generation, point-of-use, and final process filtration equipment, contact us.