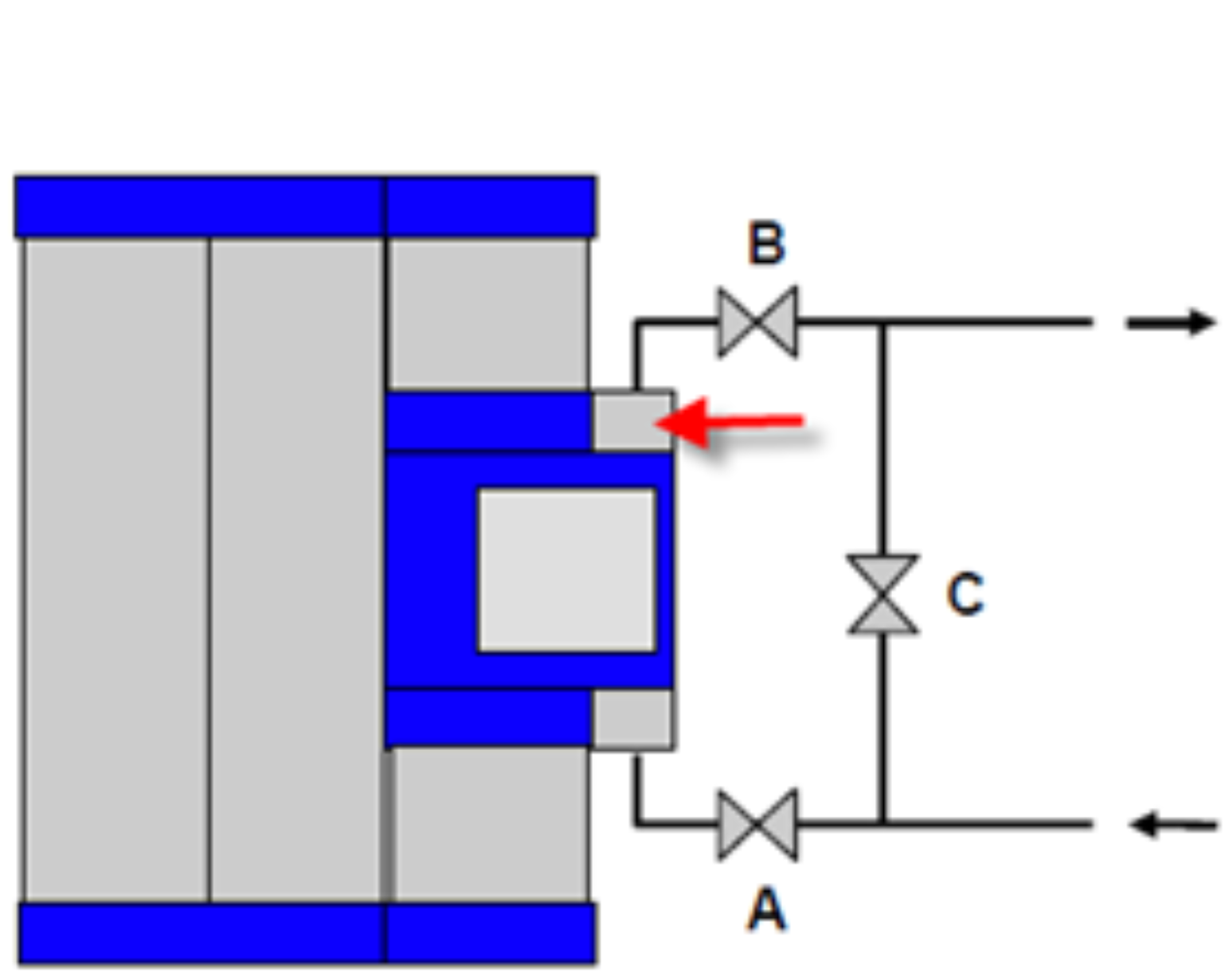 1. Installation
The dryer shall be installed on a sturdy, level surface. The weight of the dryer should be transferred to the supporting structure by the feet rather than the connecting pipework. When fastening the inlet and outlet piping, a suitable wrench should be used to counteract the tightening force as to not allow this torque to be transmitted to the dryer. A good method is to use an adjustable wrench to hold the aluminum block that contains the threaded female connections while tightening the connections. Please reference Figure 3. 


2. Startup
It is recommended that the dryer be installed with a three-valve bypass arrangement so that compressed air can be distributed even while the dryer is being serviced. An example of this arrangement is shown below:

1. Using the figure above, check that valves A and B in the by-pass line (optional) have been closed and that the electrical controller has been switched off.

2. Slowly build up the pressure in the dryer by slowly opening valve A.

3. Apply power to the electrical controller.

4. The controller starts with the pressure build-up phase in both adsorbers. Finally, the regeneration phase begins in one of the adsorbers and the adsorption phase in the other adsorber.

Note that moisture from the ambient air can get into the desiccant as a result of transport or storage of the dryer. For that reason, the dryer must be regenerated for at least 3 hours before the initial startup and before the butterfly valve B is opened to the compressed air network.

5. The dryer is integrated into the compressed air network by slowly opening valve B.

6. Close valve C if this had been opened during startup.

Please note that during operation, the dryer will make a sound like air is leaking out of it. This is normal. This will continue to happen until the unit is ready to switch towers and then there will be a blast of air discharging from the unit. It will then go back to the sound of air leaking out as this cycle will continue while the unit is in operation.