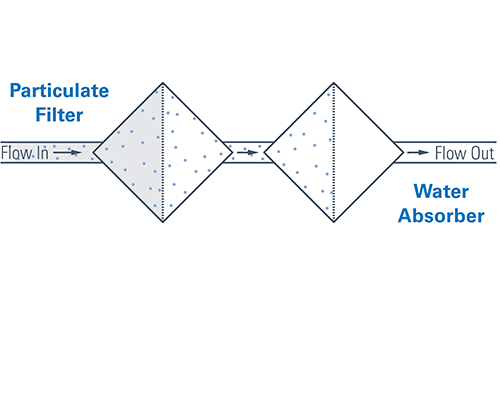 When plumbing absorbers together with particulate filters, they must be connected in series. The fluid should flow first through the particulate filter to clean it, and through the water absorber second to remove free water.
The absorber is installed in the secondary position because the particulate filter is much better at catching and holding dirt. Dirt will not reach the absorber and therefore it will last much longer. In addition, this enables the differential pressure gauge on the absorber to work as a diagnostic tool alerting when there is a water problem in the tank so that appropriate measures may be taken. If the absorber was plumbed first, it would load with both dirt and water, plugging faster and losing its diagnostic capability.
For more information on Donaldson's water adsorbing filters and other bulk filtration solutions, contact us.